Disclaimer: I am a Target affiliate and will receive a small commission if any purchases are made by clicking these links. I would never recommend something I didn't 100% believe in and all the opinions I share on The Cozy Bungalow are my own.
If anyone knows me personally, they are well aware how often I find myself at Target. I am mildly obsessed, as are many others, for their price points, unique items, and their ever changing stock. Recently, Target released their new line, Universal Thread, and I bought almost everything. It is laid back, relaxed, and easy enough to wear every day. This collection feels very much like a fusion of Lucky Brand and Madewell, but at 1/4 the price. I decided to do a round up of my favorite items from the new line & here are a few of my favorite items I purchased:
This Weekender Bag is seriously the cutest. It has a removable cross body strap, is large enough to fit many things in, AND it is perfect carry on size. I was so excited when I saw it that I couldn't help but scoop it up. It also comes in white, but for traveling in overhead bins I thought the indigo color would look nice for longer. If I was not planning on using this for airplane travel I would have purchased white. The price of this bad boy is under $40. YES PLEASE.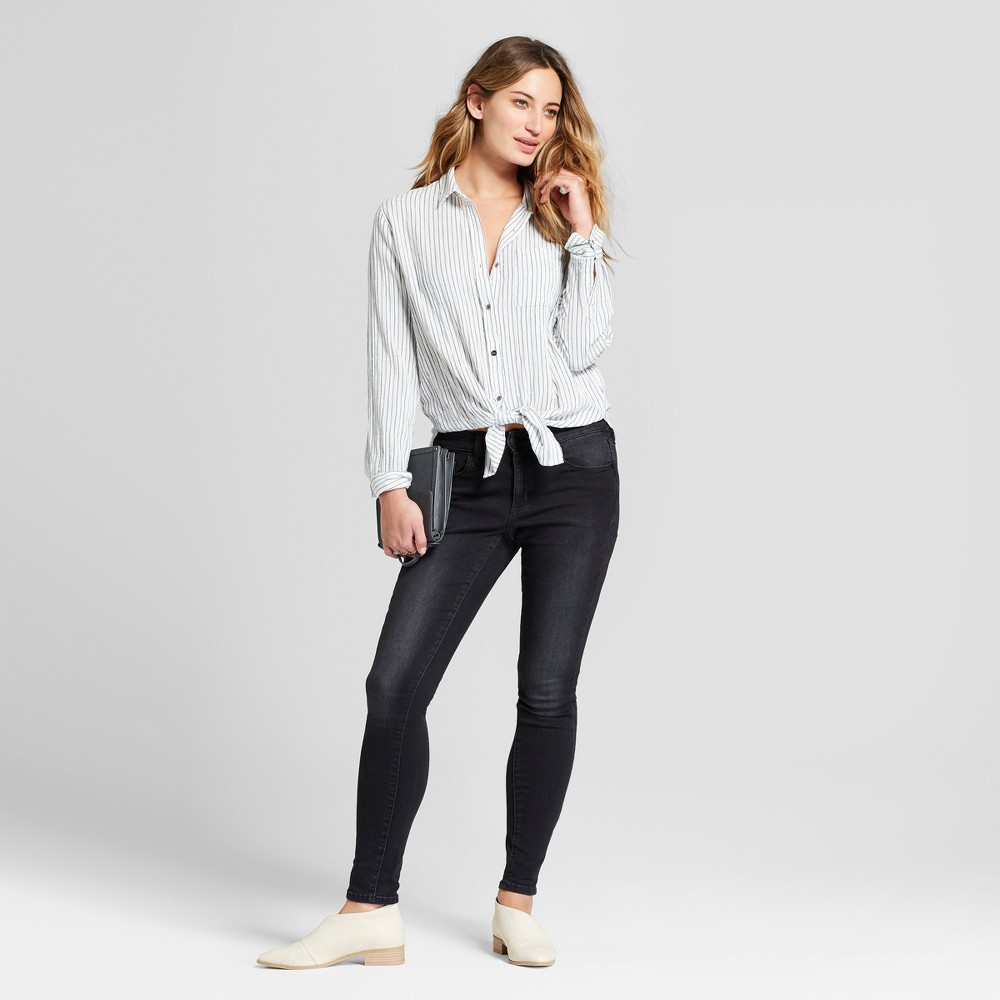 This tie front button down is SO CUTE for spring. The little details make it special as compared to other button down shirts and the tie accent at the front makes it fresh and new for spring. I love this because the back of the shirt is still long enough to cover my back side which is very flattering. At under $20, this top is a total steal. The color options are either solid white, solid coral, or the vertical blue and white stripe I have pictured above.
This Sweatshirt is the perfect everyday lounge wear. Its under $20, its solid so it matches everything, it is large enough to not cling to those areas no woman wants to highlight, and it is comfortable. All around win in my book. I purchased the green, which is one of my favorite colors, but it also comes in a denim blue color as well as solid white. All options are lovely, and for this price you really can't beat it.
This short sleeve button down will be the PERFECT layering piece for spring and summer. It is so lightweight and sheer that you can pair it with anything from a tank to a sexy bralette and be ready to roll! I absolutely love this shirt, it makes me think of something that would be sold at higher price point retailers like Madewell, but this one is only $18.
These woven mules are just amazing. For $25 I challenge you to find another more versatile shoe. They will go with EVERYTHING. As a girl who rarely wears heels due to a super high arch causing me immense foot pain, I love a good flat that I can dress up or down. These will surely steal the show and (secret bonus) they cover up my foot tattoo! I purchased the black because I have too many shoes in my favorite camel brown that I felt like I needed to switch it up a bit.